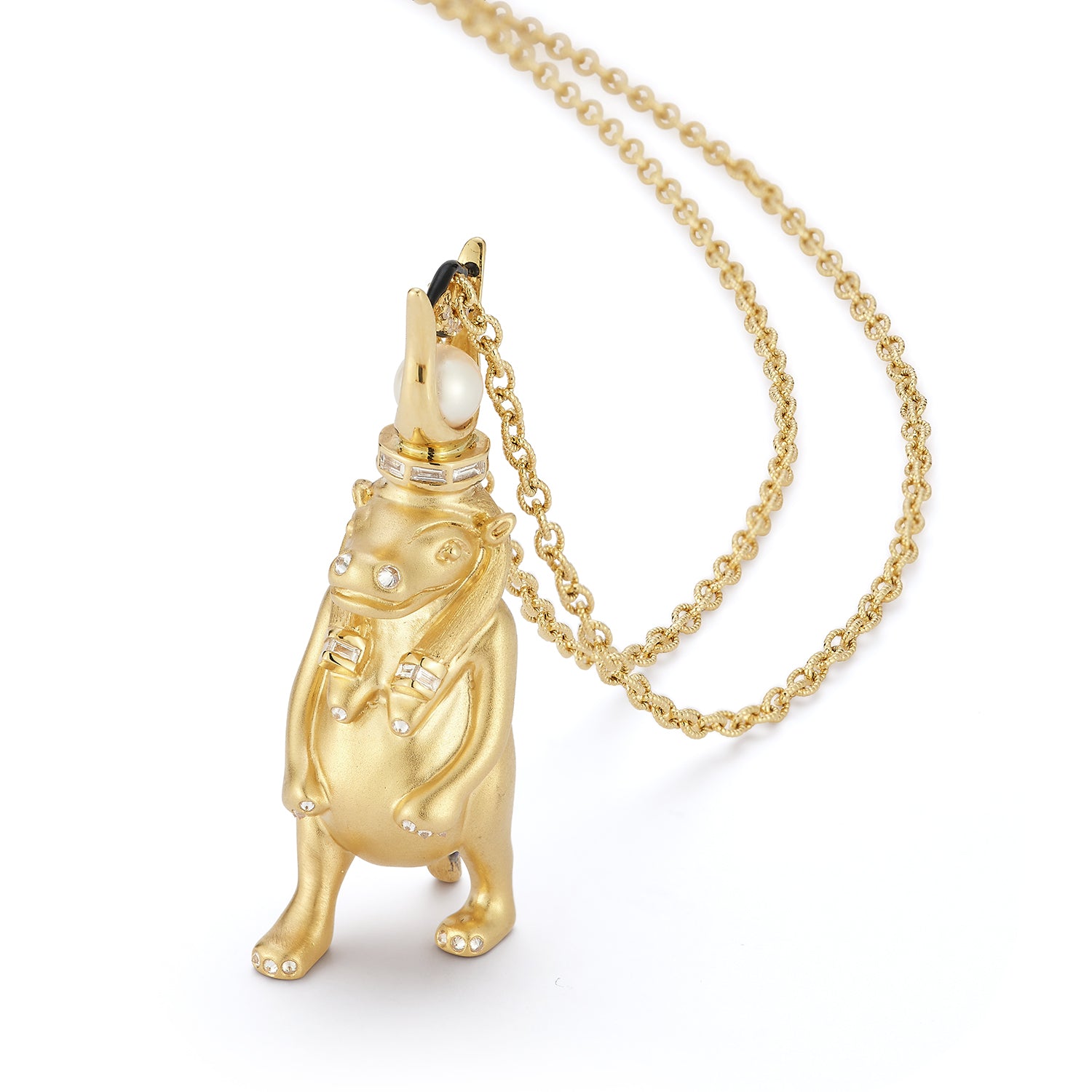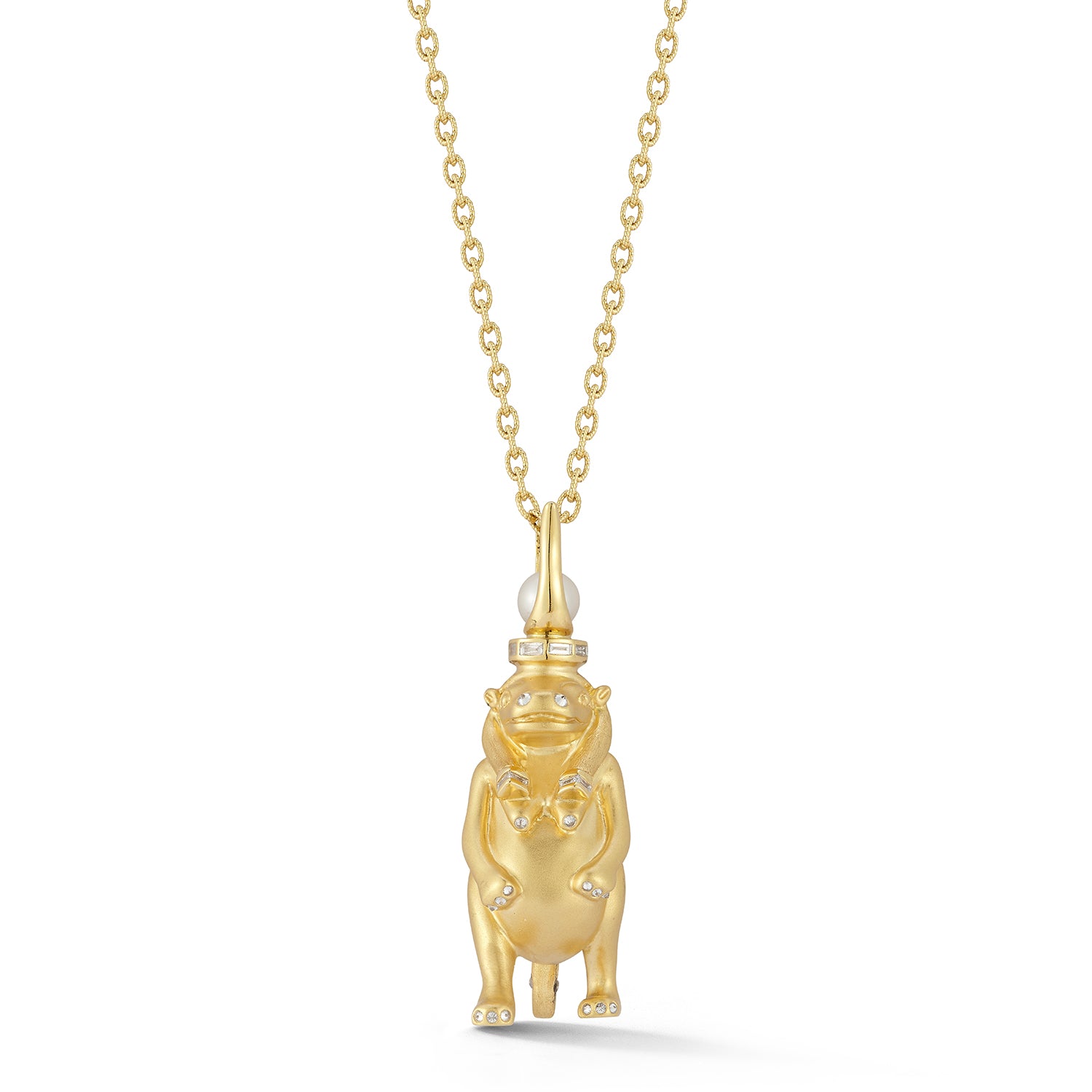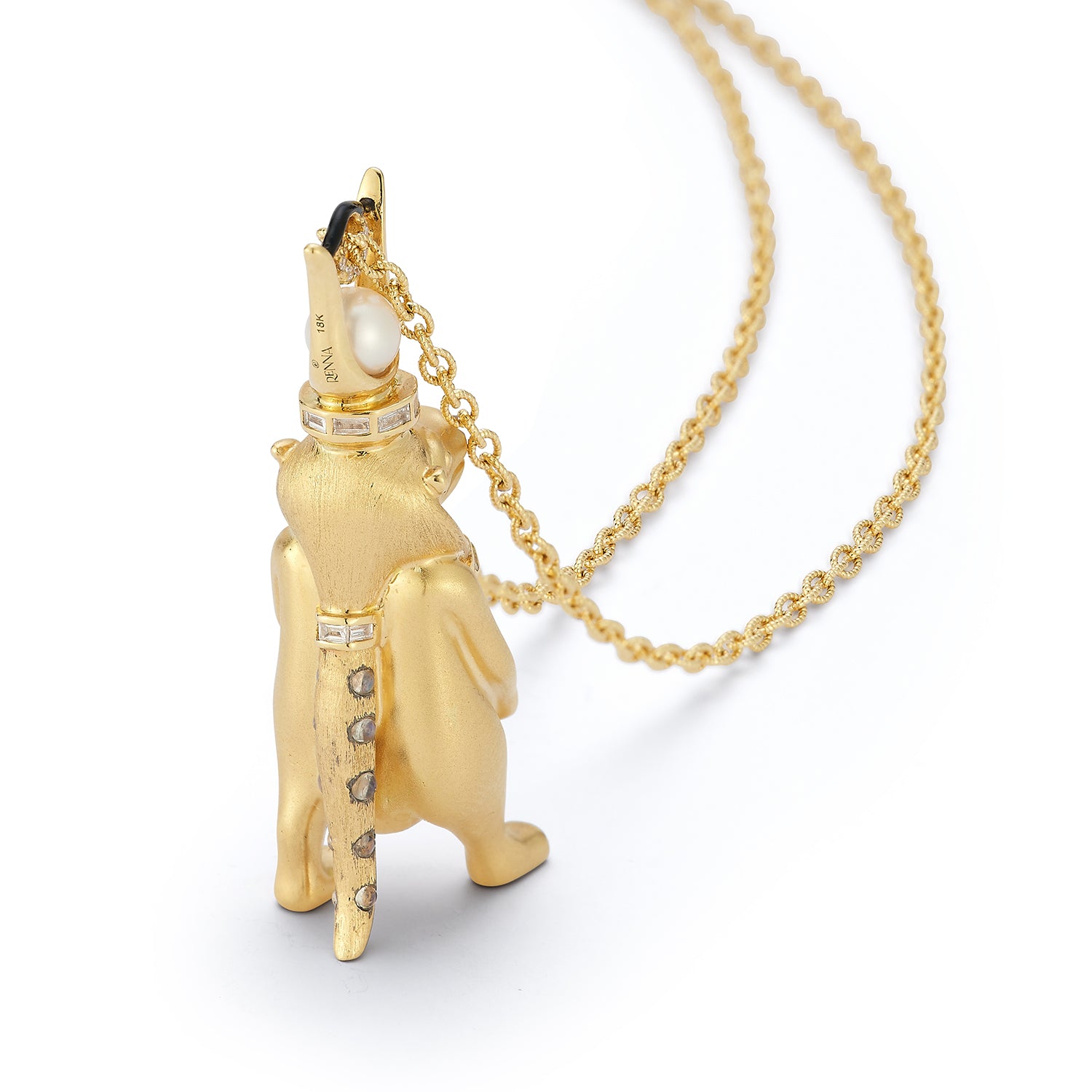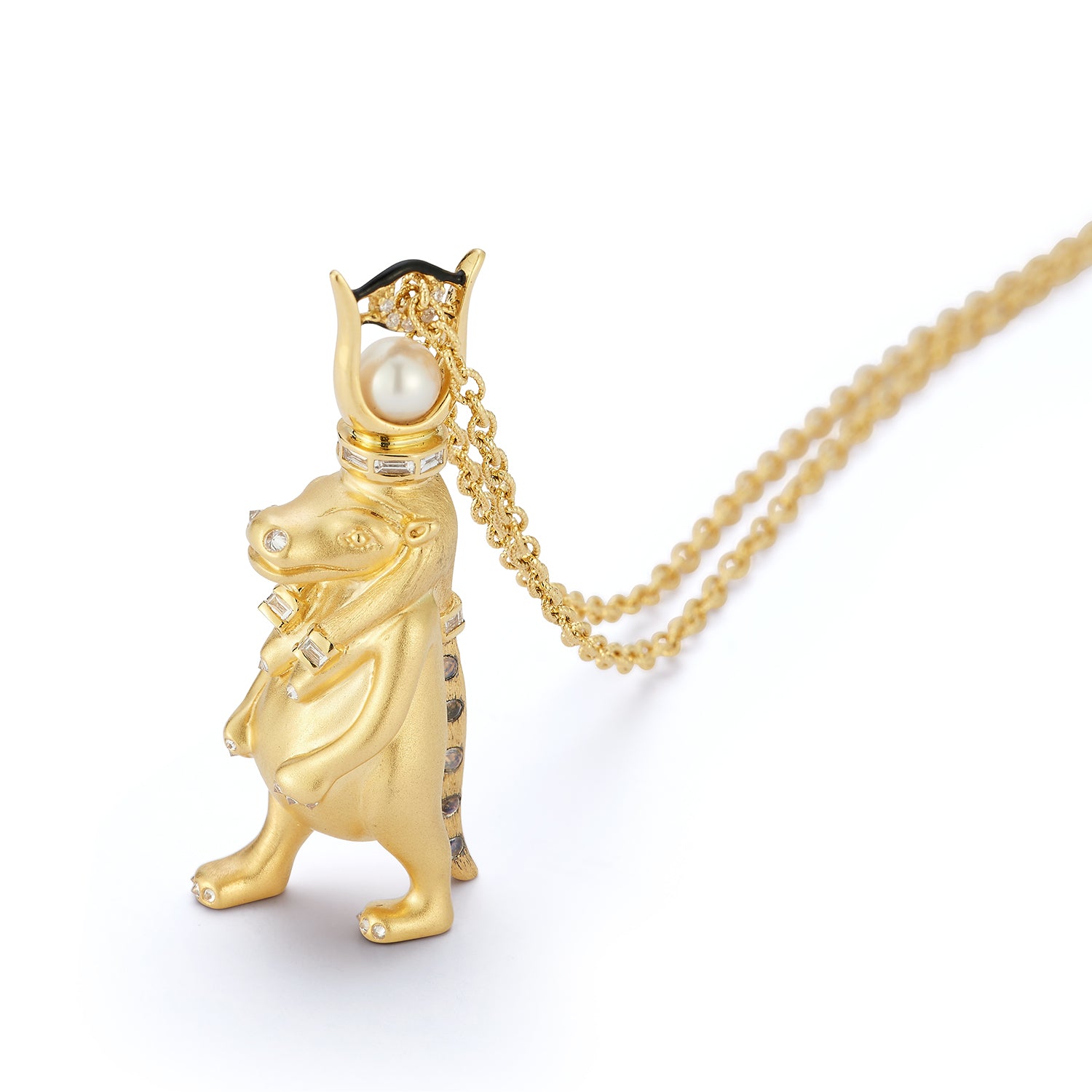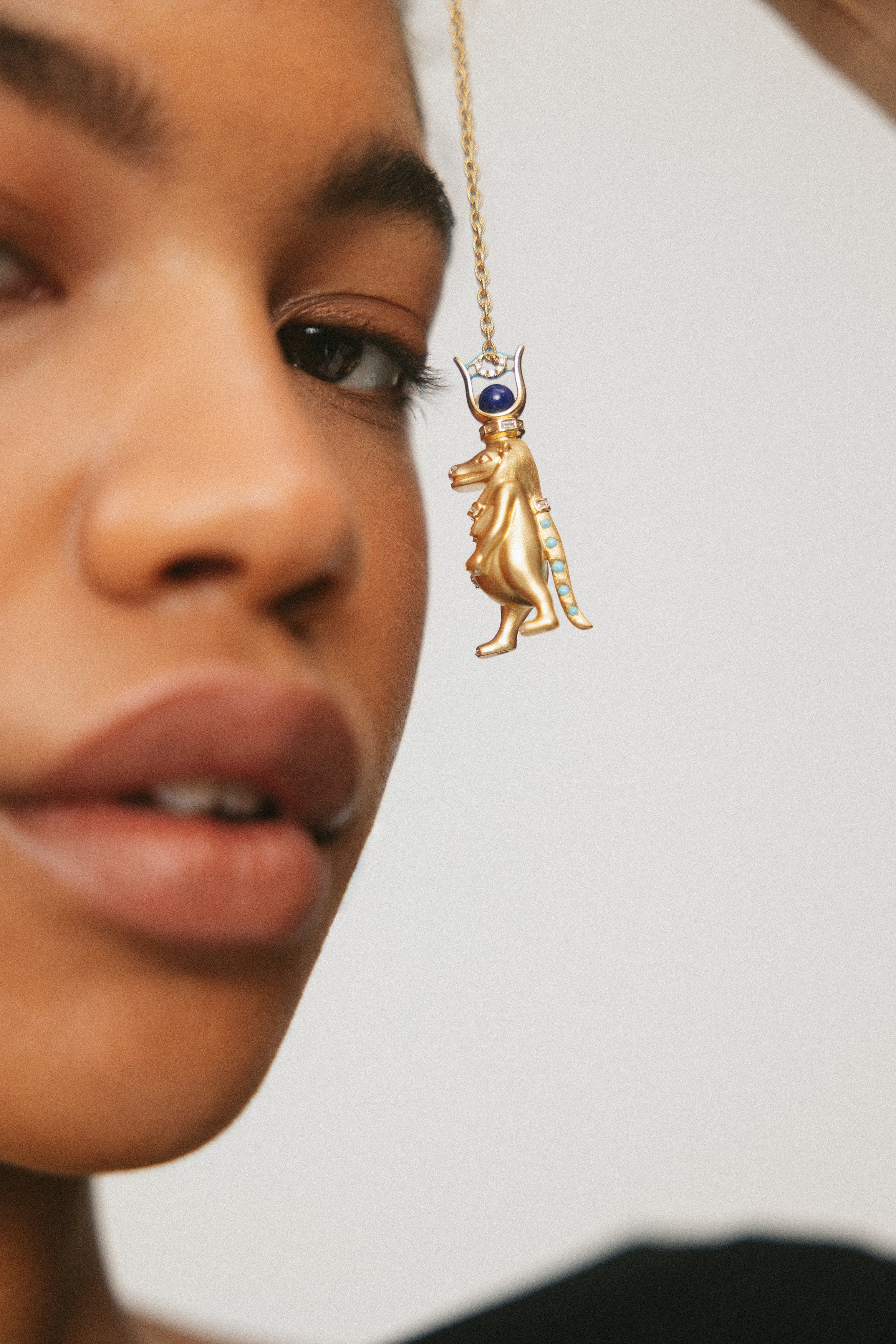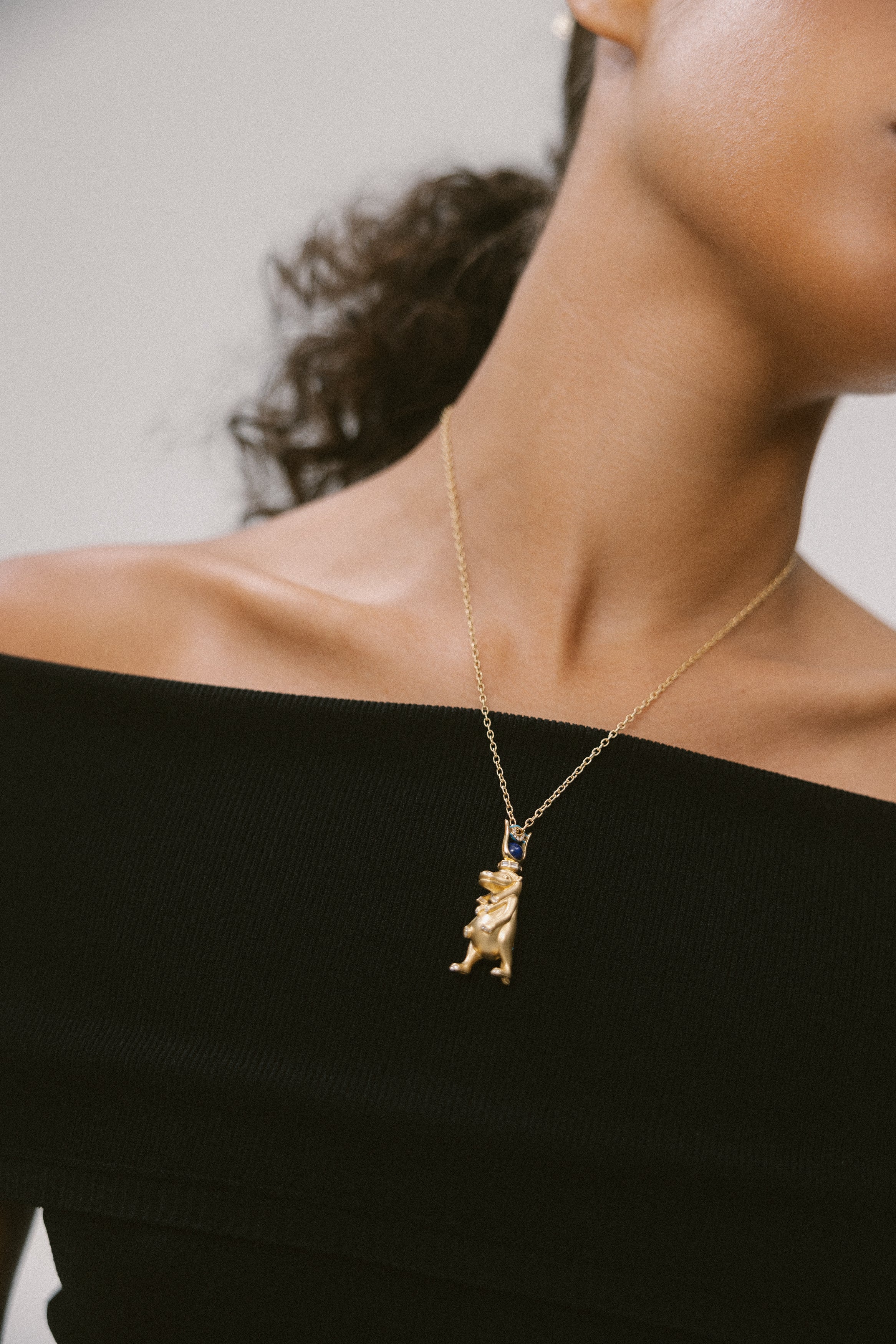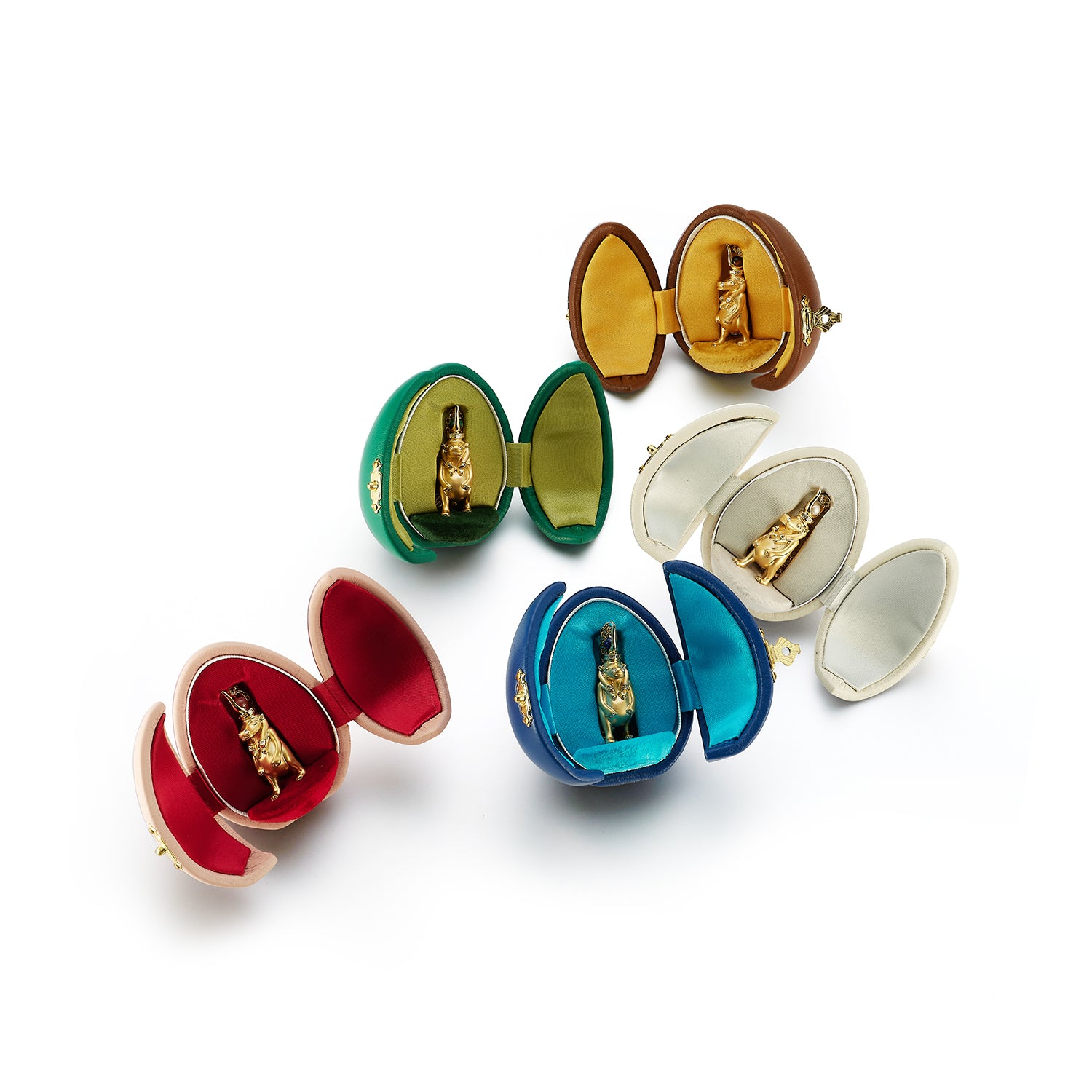 Tawaret- Pearl and Moonstone
I first encountered an idol of the ancient Egyptian deity Tawaret in 2013 while working at Sotheby's in the jewelry department.  Her energy immediately captivated me when she set foot on my desk.  I put a bid in on her, and lo and behold, she has been with me ever since.  
My paternal grandmother is Egyptian, so I have always been captivated by ancient Egyptian history.
Jump forward to 2023; I have a dear friend who is a robust and mighty mother. A guardian and a source of deep comfort for her family.  She came to me last year to request a custom piece, and I immediately said, "Have you heard of Tawaret?"  And the rest is history.  She has graciously allowed us to release her into our permanent collection because we know so many of you will treasure her power, meaning, and energy.
The image of Tawaret first emerged in the Early Dynastic Period (3000 BCE).  The Nile River was a meeting place and lifeblood for Hippopotamuses, a water source yet also a symbol of life.  The Nile River was crucial to agriculture and the survival of the Egyptian people.  It was noted that the female hippopotamus is fiercely protective of her young.  It was during this period that protective hippopotamus pendants first emerged.  
At once tenacious and reassuring, she is often depicted with the head of a hippopotamus, the tail of a crocodile, the legs and paws of a lion, and with a fertile form.  As a goddess of childbirth, Tawaret was believed to protect both the mother and the newborn from harm. She was also thought to assist with conception and to ensure a healthy pregnancy.
Her powerful appearance is thought to instill fear in evil spirits.  Historically, women have worn amulets in her likeness during childbirth as they symbolize motherhood and fertility and are also integral to the safe passage of life.
We've reverse-set the diamonds in her paws to signify her protective power and adorned her with diamonds throughout.  Her belly is not hollow but of solid gold to symbolize fertility.  We've chosen powerful vibrational stones for you to choose from so she can take on her power in your possession.  The pendant bale is also a discreet evil eye lined with enamel.  Wear or keep her next to your bed in her handmade velvet box.
Pearl/Moonstone- spiritual enlightenment and protection from negative energy (pearl)/divine feminine energy (moonstone)
Ships within 5 business days.
Tawaret- Pearl and Moonstone
Our Values
We believe
In the communicative and emotional power of jewelry.  We are aiming to become the pre-eminant sustainable jewelryhouse of the modern era.  We create jewelry that is unique and feels distinctly and purposefully yours.
Giving Back
We are proud to partner with Free Arts NYC, a local non-profit that provides art and mentoring programs to youth living in underserved communities. Now more than ever, access to the healthy escape art-making provides is crucial for children to remain resilient and stay inspired. With every purchase made, Renna Jewels will donate one art kit to a child living in transitional housing.
Sustainability:
Recycled Gold
We use 100% recycled 18-karat gold and create each of our pieces by hand.  Read more about our recycling process on ourFAQ pageWe minimize our carbon footprint by creating our jewels locally in New York City. 
Shipping
Shipping
We ship all orders fully insured via UPS Parcel Pro Next Day Air or 2nd Day Air, depending on your selection at checkout.  UPS requires the signature of an adult upon arrival.  Should you prefer a different delivery method or would like us to remove the signature requirement, kindly e-mail us at hello@rennajewels.com so that we may update your shipping preferences.
Returns
At this time, all sales on rennajewels.com are final.
Due to the finality of your purchase, please note the measurements and scale of all products before purchasing.
If you purchased an item from an outside retailer and would like to return or exchange it, you must bring the item to the original retailer where it was purchased. We are only responsible for pieces purchased directly from rennajewels.com.
Get in touch
We are always available for sizing and styling questions.  Please email hello@rennajewels.com or call us at +1.917.751.4442 with any questions, to schedule an in person showing, or just to chat.
(We love to chat!)